Video

Tubulin structure
This HD movie shows the 3D structure of the tubulin - taxol complex (PDB ID 1JFF). It was created using VEGA ZZ and EDIUS Neo 2.5 Booster editing software.
---

Human carboxyl esterase 1 (hCES1) complexed with morphine
The heroin is hydrolizated by hCES1 to morphine and in this animation is shown the ejection of the product from the active site of the enzyme. It was obtained from a 5 ns molecular dynamics removing the high frequency vibration applying a DFT filter.
---

Human Alpha-1a adrenergic receptor
This is a short molecular dynamics animation in which are highlighted the backbone movements of the Alpha-1a adrenergic receptor.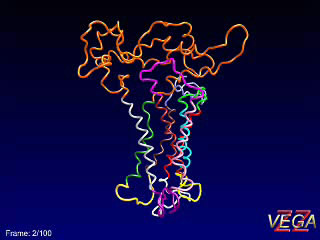 Download the movie (320x240, AVI WMV 9)
---

WB4101 Molecular Electrostatic Potential (MEP)
This animation shows a spinning molecule with MEP surface.

Download the movie (320x240, AVI WMV 9)
---