Open the cluster analysis dialog: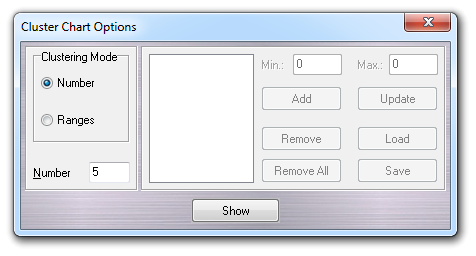 11.1.4.1 Clustering Mode: Number
selecting Number from Clustering Mode radiobox, it's possible to specify the number of clusters. The default number of clusters is 5 and the range of each cluster is automatically calculated. Clicking Show, the histogram graph is shown: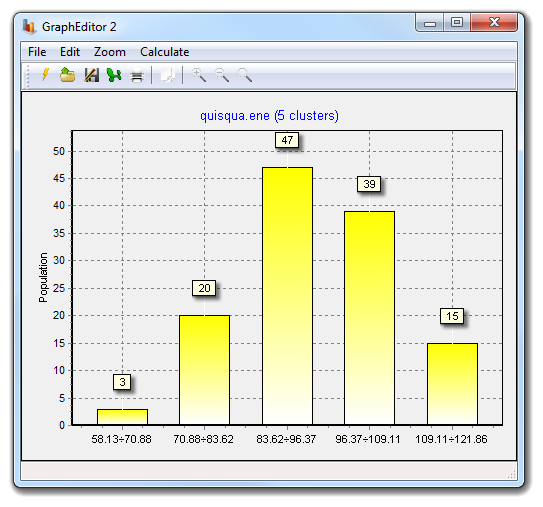 Each histogram is a cluster and its height is the number of value contained in the cluster, like shown in the little box on the top.
11.1.4.2 Clustering Mode: Ranges
This operation mode consists in a user defined list of rages. Each range is the upper and lower limit of a cluster.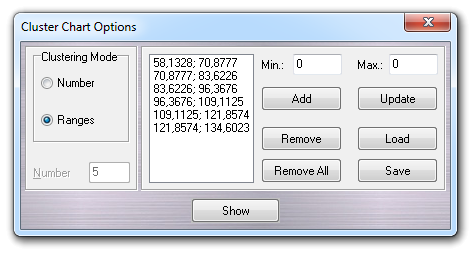 You can define a new range (cluster) typing in Min and Max fields the limits and pressing the Add button. To remove a single range, you must highlight it clicking on the list, and press the Remove button. If you want remove all ranges, click on Remove All and if you want change a range, highlight it, type the new limits and press Update.
The compiled list of ranges can be saved (Save button) if you think that it should be useful. Use the Load button to reload the list in the memory. Please note that the folder where the ranges should be saved is ... \VEGA\Chart\Ranges and the file format is CSV with the semicolon as separator (;), like in the following example:
0; 30
30; 90
90; 150
150; 210
210; 270
270; 330
330; 360