2. Installation and activation
To install the VEGA ZZ package, run the setup file (Vega_ZZ_X.X.X.X_Setup.exe) with administrator rights and follow the installation wizard. If you installed a firewall software, you must configure it, granting the network access to VegaZZ.exe and REBOL.exe.
Staring from 3.1.2 release, both 32 and 64 bit versions of VEGA ZZ are provided in the same package and during the setup procedure, the best version for your operating system is automatically installed. If you choose to install the Live CD creator tool, both versions are installed in order to grant the run of the live version of VEGA on all Windows versions.
After the setup, run VEGA ZZ to begin the activation procedure needed to unlock the software: the activation is totally FREE.
Follow the procedure shown in this window: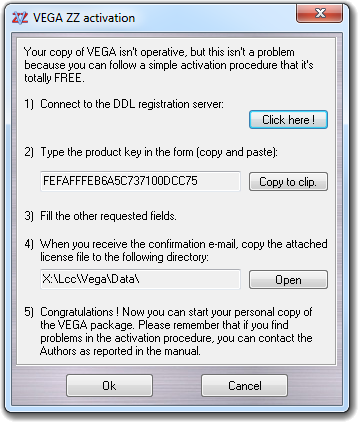 Connect to DDL registration server pushing the Click here ! button. The Internet Explorer window will be shown at the http://www.ddl.unimi.it/licman URL.
Put in the form the product key reported at the step two and your e-mail address. It couldn't be needed to type the product key if it's already present in the form field. Please use a valid e-mail address, because it's required to send you the activation key file. If you want to activate more than one PC, use the same e-mail address in order to skip the user registration procedure.
If you aren't already registered, complete the registration form.
At the end of registration, two e-mails are sent automatically: the former is the registration confirm (if you aren't already registered) and the latter contains the activation key.
Save the activation key attached to the license e-mail. The activation key is a small binary encrypted file named vegazz.lic.
Open it to install or alternatively copy the vegazz.lic file to the VEGA ZZ\Data directory. Click the Open button of the activation window: an explorer window is opened, showing the right directory.
Click the Ok button. If a problem is found, an error message is shown and the activation can be repeated until the Cancel button is clicked.
If you find problems during the activation procedure, please see the FAQ section.
Please remember that the activation key is generated starting from the product key. The product and the activation keys are personal and they work with a specific PC/workstation only. You can't activate more than one PCs with the same activation key because each PC has a different and unique product key. The activation expires after 1 year for non-profit academic users and after 30 days for business companies. After this time it's possible to request another activation key. The two activation types can be selected during the registration procedure. The Authors can change the licensing method in any time on their own decision. The business companies can't access to the collaborative support without purchasing the Support Pack (available requesting it to the Authors): help or new feature requests will be trashed if they are submitted by companies without Support Pack. The Authors spent a lot of time to develop a software that, in some cases, includes better features and performances than several commercial packages. We request a little contribution to companies in order to continue the VEGA ZZ project otherwise destined to end in the near future.
2.1 Installation of optional components
The optional components require to pre-install VEGA ZZ on your PC. Some components aren't included because they may be not useful for all users and/or require a separate license agreement.
The HyperDrive library, that is the calculation core of VEGA, can take full advantages of the OpenCL enabled devices (GPU and accelerators). Although your PC has OpenCL device, it may be necessary to enable its support, installing suitable drivers. For more information about the OpenCL installation, click here. The performance boost could be amazing as reported in the following test:
System configuration:
AMD Phenom II X4 955 quad core 3.2 GHz, 4 Gb DDR3 Ram, Sapphire/ATI HD5770 1 Gb DDR5 PCIe card
Software for the test:
Windows 7 Professional x64, VEGA ZZ 2.4.0, HyperDrive 2.0 for K8 and more CPUs.
Type of test:
MEP surface calculation (Type: MEP, Dots, Probe Rad: 0, Density: 10) of the inositol monophosphate dehydrogenase (8598 atoms) which file name is impdh.pdb.bz2 and it's placed in the ...\VEGA ZZ\DemoZZ directory.
Test results:
The results are approximated and indicative for the performance boost.
Calculation mode

Time

(seconds)

OpenCL GPU
~1
OpenCL CPU (GPU emulation)
11
CPU 4 cores
28
CPU 3 cores
37
CPU 2 cores
56
CPU 1 core
111
VEGA ZZ Live CD Creator is a software developed to create live distributions starting from the VEGA ZZ files installed in your PC. A live distribution is an auto-starting CD or pen drive that allows to use VEGA ZZ without installation and activation. In this way, you are able to use VEGA ZZ everywhere. To install it, you must choose the Live CD Creator component during the software setup.
The VEGA ZZ package includes MOPAC 7.01-4 for semi-empirical calculations, but it's possible to use the latest MOPAC 2016 that, if correctly installed, is automatically detected by VEGA ZZ. For copyright reasons, Mopac 2016 isn't included in the package but it can be obtained at http://openmopac.net.
Please follow these steps for a correct installation:
Connect to http://openmopac.net/MOPAC2012.html and choose the Downloads page.
Download 32 or 64 bit Mopac 2016 stand-alone for Windows depending on your operating system. Take care to select the right file to download: the non-stand-alone versions can't be used by VEGA ZZ.
Unzip the archive and put Mopac2016.exe and libiomp5md.dll files in ...\VEGA ZZ\Bin\Win32 or ...\VEGA ZZ\Bin\Win64 directory.
The Mopac 2016 installation is now completed.
NAMD 2 is a parallel molecular dynamics software designed for high-performance simulation of large biomolecular systems. VEGA ZZ includes a user-friendly graphic interface making easier the use of this powerful package. To install NAMD, follow this procedure:
Download the latest NAMD 2 package for windows from http://www.ks.uiuc.edu/Research/namd/. You can find it in the download page as Win32-i686 (Windows NT, 2000, XP, etc).
Put your user name and password to login. If you are a new user, please proceed to the registration.
Agree the license terms clicking the big button and download the zip file containing the package. The file name should be NAMD_X.X_Win32-i686.zip.
Unzip all files in the ...\VEGA ZZ\NAMD directory.
The installation is complete and now you can use NAMD selecting Calculate NAMD in the main menu (for more information, click here).
PLANTS docking software is not included in VEGA ZZ package and to install it, you must follow these steps:
Complete the registration form in download page at http://www.tcd.uni-konstanz.de/
Download the PLANTS Win32 (minGW).
Rename the file name to Plants.exe and copy it to ...\VEGA ZZ\Bin\Win32 directory, where ...\VEGA ZZ is the VEGA installation directory.
Download mingwm10.dll and copy it to ...\VEGA ZZ\Bin\Win32 directory.
Now PLANTS is ready to run in VEGA ZZ environment.
WARNING:
If you installed the 1.1 version built by Mingw32, it's strongly recommended to patch it by running Patch bin 1.1 script. To do it, select File

Run script in the main menu (for more information click here), expand the script tree at Docking, thus at PLANTS level and finally double click Patch bin 1.1.c.
X-Score 1.2 or 1.3 for Windows is not included in VEGA ZZ package, but is required to run some scripts such as X-Score.c and Rescore+.c. To intall X-Score, follow these steps:
Open the following Web site: http://www.sioc-ccbg.ac.cn/?p=42&software=xscore
Complete the on-line registration form.
Log-in with your credential and download X-Score package for Windows platform.
Open the tar file by WinRAR or other software able to unpack tar gizipped files.
Extract xscore_win32.exe from xscore_win32\bin to ...\VEGA ZZ\Bin\Win32, where ...\VEGA ZZ is the VEGA ZZ installation path (usually C:\Program Files\VEGA ZZ).
Rename xscore_win32.exe to xscore.exe.
Extract parameter directory from xscore_win32 to ...\VEGA ZZ\Data directory. This last directory is hard to identify, because every Windows version creates it in a different place. To find it, open VEGA console from Start menu, type OpenDataDir and press enter.
Rename parameter to Xscore.
If you want to use xscore.exe from command prompt, open VEGA console and use xs command, that is a shell script that fixes the environment variable required by X-Score.
---