WarpGate
Encrypted tunnelling service for secure TCP/IP connections
WarpGate is a TCP/IP tunnelling service implementing a strong 256 bit encryption to create super secure Internet connections. It works with Linux and Windows and it can run as a normal application or as service/daemon. WarpGate is useful to create FTP, HTTP and TELNET encrypted connections in easy and transparent way.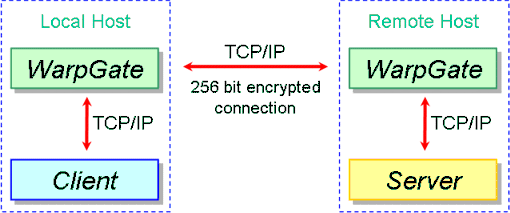 WarpGate schematics: the client and the server receive and transmit unecrypted data locally only. The data exchanged across the public TCP/IP network is 256 bit encrypted.
Download:
Click on the link below to start the WarpGate download.
Included in the WarpGate package:
Linux versions (x86 32 bit and AMD64 64 bit).

Windows versions (x86 32 bit and x64 64 bit).

The utility to generate encryption keys is included.

HTML manual.

For security reasons, the source code is not available.